Hey y'all! I've got some really exciting news if you've ever been interested in joining the Manda Lane Scraps Creative Team because she's looking to add a few layout designers to the team.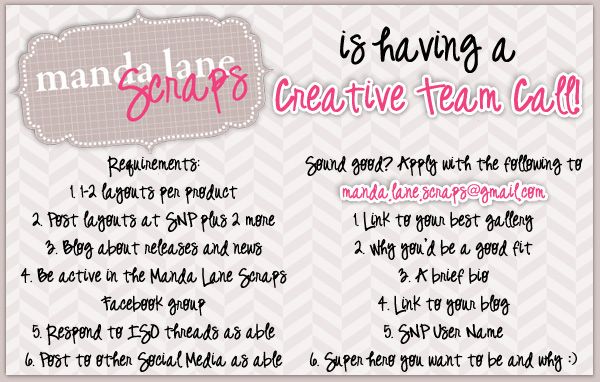 Requirements: 1. 1-2 layouts per product 2. Post layouts at SNP plus 2 more 3. Blog about releases and news 4. Be active in the Manda Lane Scraps Facebook group 5. Respond to ISO threads as able 6. Post to other Social Media as available Sound Good? Apply with the following to
manda.lane.scraps@gmail.com
1. Link to your best gallery 2. Why you'd be a good fit 3. A brief bio 4. Link to your blog 5. SNP user name 6. Super here you want to be and why Everyone who applies will receive a response when your application is received (within 24 hrs) and before the announcement of those joining her team. Open until full. She'll respond in the
SNP forum post
with a 48 hour notice before she closes the call. Can't wait to see who joins the team!